WHAT A WEEKEND !! IT STARTED AT TRAILER TRASH ,WHERE
WE'RE NOT COOL
AND
DUKE DUMONT
PLAYED KILLER SETS, DUKE PLAYED SOME OF HIS NEW STUFF....IT'S FUKIN MENTAL...JUST YOU WAIT, IT WILL BLOW YOU AWAY, IT'S SOON TO COME OUT ON DUBSIDED.
I FINISHED MY SET THERE, WHICH WENT DOWN NICELY WITH THE EVER FAITHFUL TRAILER CROWD.
THEN JUMPED IN A CAB TO FABRIC TO PLAY FOR
SINDEN
AND
SWITCH'S
NIGHT ,
GET FAMILIAR
. BIG THANK YOU TO THEM AND THE FABRIC CREW FOR HAVING ME DOWN. THE SYSTEM IN ROOM ONE IS UNBELIEVABLE...FOR A BATTY BASS GURL LIKE ME, I WAS IN HEAVEN!!! AS EVER, I REALLY ENJOYED PLAYING :)
I MANAGED TO CATCH A FEW WINKS THEN WENT OFF TO PLAY IN AMSTERDAM , AT
CLUB STALKER
. COOL, LIL CLUB IN THE BACK STREETS OF A GOTHIC PART OF TOWN, SHOUTS TO SVEN AND STALKER CREW. AFTER MY SET THEY PLYIED ME WITH VODKA SLAMMERS WHICH RESULTED IN ME AND THE BAR MANAGER DOING A RAGE AGAINST THE MACHINE KAROKE ! :/
oh dear!
IVE HAVE SOME REAL GEMS IN MY SET RECENTLY, INCLUDED NEW STUFF FROM DROP THE LIME AND WILL BAILEY, BUT THE TUNE THAT TOPS THEM ALL IS........
MISS KITTEN "KITTEN IS HIGH" (JOJO DE FREQ'S BEAUTY IS TERROR REMIX)
(go buy the full quality version from beatport.com)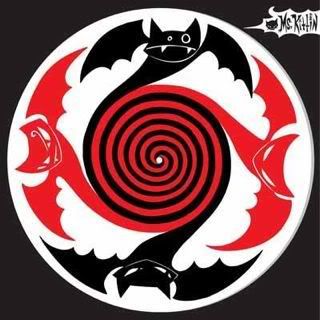 WOW........... IT WILL RIP YOU UP MUTHERFUKER!!!!!!!!!! KILLER UP FRONT BASSLINE, KINDA ALTER EGO-ISH, WITH OLD SKOOL RAVE SYNTHS AND TRADEMARK KITTEN VOCALS.
MASSIVE RESPECT TO
JOJO DE FREQ
FOR THIS
MISS KITTEN
REMIX. ITS AN ANTHEM, AND WILL BE IN MY BOX FOR A LONG WHILE....CHECK IT OUT!!!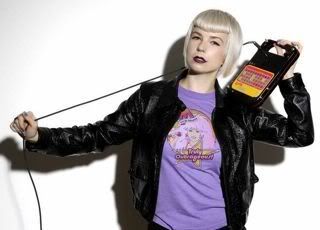 my main gurl, jojo de freq
kitten n hannah