Tonight is my last ever gig at On The Rocks, for Trailer Trash. Ive decided to stop playing at the club to concentrate on other projects, plus 5 years is a hell of a long time and a great round number to finish at !!! I will still be playing for the other Trailer Trash events. It really is an end of an era and i have many many fond memories of nights in that sleazy dirty disco!! Thank u to all the dancefloor crew for being so much fun to play for and really supportive. HAPPY DAYS BIG TUNES DANCEFLOOR CARNAGE~!!!
xxxxxx
ITS THE 5TH BDAY NEXT WEEK....!!!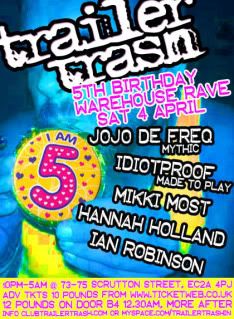 THIS WAS FROM THE 1ST BDAY...SECRET PRISON RAVE...ONE OF THE BEST PARTIES IVE EVER BEEN TO AND PLAYED AT !!! WE MANAGED TO PARTY IN A 500 YEAR OLD PRISON, THE LARGEST IN LONDON FOR ITS TIME, USED BACK IN THE DAY FOR PETTY CRIMINALS , RATHER FITTING!!
BANGED UP
from
hannahholland
on
Vimeo
.